Digital Phenomena specialise in computer and I.T. solutions for an evolving digital world. Our staff have over 25 years experience in the I.T. industry ranging from educational solutions, internet consultancy & system administration to on-site training and support. We currently have clients all around the world.
Our aim is to 'remove the technology' from technology or to put it another way, find solutions to problems that are invisible to the user. Computers should be a tool to achieve an aim, not a restriction to imagination and creativity.
Because we have extensive programming capability and ten years experience of web design and communication technologies, we have a greater understanding of the internet industry than many of our competitors.
By utilising highly productive, state of the art computer systems we are able to find and offer solutions tailored to our clients exact needs, using efficient & hand-crafted code where appropriate.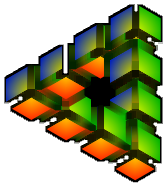 We can provide:
Web Design and Maintenance, with search engine optimisation and fully W3C validated.
Computer Advice and Consultancy, whether purchasing new equipment or servicing old.
Security and Privacy Advice & Tuition. From PGP encryption to Digital Forensics.
ISP Services and Email & News solutions. Our own broadband and dialup provision.
Domain Registration and Web Hosting Services. Everything you require for a web presence.
Dial-up, Broadband and Networking Help. Expert help with no overseas call centres.
Custom Programming Solutions, from simple scripts to bespoke applications.
No project is too large or too small, so please contact us for a friendly and non-technical chat.
Our motto is
"Your creativity should be limited by imagination, not technology."
Or, to put it another way, imagination should not be restricted by the limitations of a computer system. Technology should compliment you, not restrict you.

Our computer solutions use environmentally friendly options where possible and our office workstations are powered by low-power ARM processor designs, thus providing a highly efficient desktop environment whilst consuming a fraction of the power of conventional PCs.
Digital Phenomena Ltd is registered in England and Wales No. 5083489